How to Increase Your Social Media Engagement: Part 1
Unlock the power of social media and take your engagement to the next level with this two-part series focused solely on tips to increase your social media engagement. Are you tired of posting and hoping for the best? Whether you're a seasoned social media user or just starting out, these tips will give you the tools you need to create meaningful connections with your followers. Say goodbye to lackluster engagement and hello to a thriving, connected audience.
We will guide you through these nine tips where you'll gain a comprehensive understanding of how to increase your social media engagement. From maximizing post reach to leveraging the right hashtags, you'll learn practical strategies that you can start implementing right away. By the end of this article, you'll have a clear action plan for boosting your social media engagement and growing your following. Let's dive in by starting with posting frequency best practices.
Are you posting at least three times per week?
Maximize your reach by posting with purpose! To get your content seen by as many people as possible, it's crucial to have a consistent posting frequency. Keep in mind that customer engagement drives visibility on many platforms. So, finding the right frequency is key to your success. When you consistently publish high-quality content, people will engage, creating a domino effect that leads to even more visibility. To help guide you, check out Sprocket's informative study and infographic on popular platforms and the lifespan of posted content. Remember, the timing and frequency of your posts play a major role in your social media success.
Are you maximizing your social media potential with story posts and live feed content?
Different people use different features, and it varies by platform. Make the most of your social media presence by utilizing story features to capture the attention of your audience during their downtime. Use stories to promote promotions and giveaways and grab their attention. Show the human side of your brand with live feed content. Let your audience see you as a real person, not just a master of Adobe Illustrator. In today's world, consumers are looking for socially responsible brands with a purpose. Show them the human element and purpose behind your brand with live feed. Use live feed for Q&A sessions, to share funny stories, or to take your audience on a journey with your brand. People love a good story – give them one they'll never forget!
Is your content relevant to your target audience?
The first step to successful marketing is identifying who your target audience is. In order to increase your social media engagement you will need to take the time to research their interests, social media habits, and engagement patterns. This will give you the insights you need to create content that resonates with them. Remember, it's not just about showcasing your product or service, it's about showing your audience why they need it in their lives. So, find out what times of day they are active on social media and make sure you're delivering relevant content that speaks to their needs. Show them the value of your solution, not just what it is.
Do you create a connection with your audience?
We all want our posts to be engaging and receive high levels of interaction. By adding a personal touch to your social media, your audience will feel like they're connecting with a real person, not just a brand. Make sure to respond to comments and direct messages from your followers to build a strong rapport with them. This will increase the chances of repeat engagement and eventually, revenue.
Take your engagement a step further by responding to comments on other pages in your industry. This will establish you as a knowledgeable and trustworthy source, leading to more followers and ultimately, more revenue.
To really understand your audience, consider creating polls and surveys. Ask simple, unbiased questions and make it easy for your followers to participate. Use the results to improve your message and have some fun with it! Remember, engagement doesn't always have to be about making a sale.
As you continue to engage with your audience, you'll have the opportunity to ask for favors. You could ask them to support a sale or promotion, like or follow a partner page, or tag their friends for a giveaway. The key is to remember that revenue is a long-term result of quality engagement and a human touch.
Are you alternating content topics?
Maintaining consistency on social media can be challenging, but there's a trick to making it easier. Take your client's goals and categorize your content to achieve those goals. Categories could include Engagement Posts, Fun Memes, Sales Pitches, Webinar Promotions, Email Sign-Ups, Education, Inspiration, and more. This will give you a roadmap for your content creation and streamline your ideas. By scheduling your content on a calendar, you can focus on creating without worrying about what comes next. This approach will allow you to vary your topics and give your audience a refreshing experience every time they see your posts. So, take control of your content creation and provide your audience with a dynamic experience!
Do you leverage the power of video in your social media strategy?
Each social media platform appeals to a specific type of content, and it's crucial to know where your target audience spends their time online. Twitter is for men who love debates, TikTok and Instagram for those seeking fun trends or challenges (Pro Tip: Instagram is favoring video content in 2023), and Pinterest for women who love shopping and all things related to home décor. Your choice of content format – image, GIF, meme, or video – should align with your audience's preferences on each platform. Make sure to consider the best format for your audience to consume your content on each platform.
Excite your audience with giveaways and contests!
Winning free stuff is always a hit with your audience, and it's a great way to engage with both growing and established communities. Even if you're just starting out, don't be intimidated. I heard a fantastic story about a new brand that offered a replica sword as a giveaway. The target audience was passionate about "nerd culture," and their social media agency suggested that they run a contest. The brand decided to give away a genuine, high-quality replica sword from a popular TV series. The result was phenomenal! The agency brought in incredible returns for the brand and they quickly gained a massive following. Who doesn't love free stuff, after all? Check out one of my favorite brands on Instagram for inspiration (See Part 2 for tips on Giveaways and Promos).
Do you use emojis?
Unleash your expressive side with emojis! Did you know that adding emojis to your posts can boost engagement by up to double? Even though the study by Search Engine Journal is a bit outdated, emojis continue to be a powerful tool to show your human side, express your personality, and capture the true mood of your content. Emojis make text-based communication more fun and expressive. So, next time you craft a post, add some emojis to convey your message effectively! A word of warning before you continue reading, use emojis in the proper setting and with the appropriate frequency. You don't to become the brand that inspires the movie, "When Emoji's Attack".
Do you run a blog?
Ready to level up your digital marketing game? It all starts with a blog.
Blogging is a powerful tool that every company should be using. If you're struggling to come up with content, don't worry, we'll get to that another day. But for those who are up for the challenge, blogging is an amazing way to establish yourself as an expert in your field. Plus, you can use your blog posts to boost your SEO, create social media posts, and even turn them into podcasts or YouTube videos. Talk about versatility!
And the best part? When you write a blog post, you're not just creating valuable content for today, you're setting yourself up for success in the long run. As industries change over time, your blog post may lose some relevance. But that's not a problem. All you have to do is update your post, and boom! You have a new web page with improved traffic and fresh content to share on social media (Pro Tip: Make sure you update the publishing date to include the revision date). You can even do a comparison of the old and new content.
And let's not forget about lead generation. Use your blog posts to drive traffic to your lead generation tools. With all the benefits that come with blogging, both in the present and the future, there's no reason not to start using this fantastic tool today.
Conclusion
These nine tips to increase your Social Media engagement provide a great guide for anyone looking to improve their social media engagement and presence. If you truly want to increase your social media engagement you can use this range of strategies which include defining your target audience, creating visually appealing content, utilizing hashtags, posting at optimal times, responding to comments and messages, collaborating with influencers or other brands, running contests and giveaways, asking for engagement, and using storytelling in your posts, and more. By following these tips, you and your business can effectively increase your social media engagement and reach your marketing goals.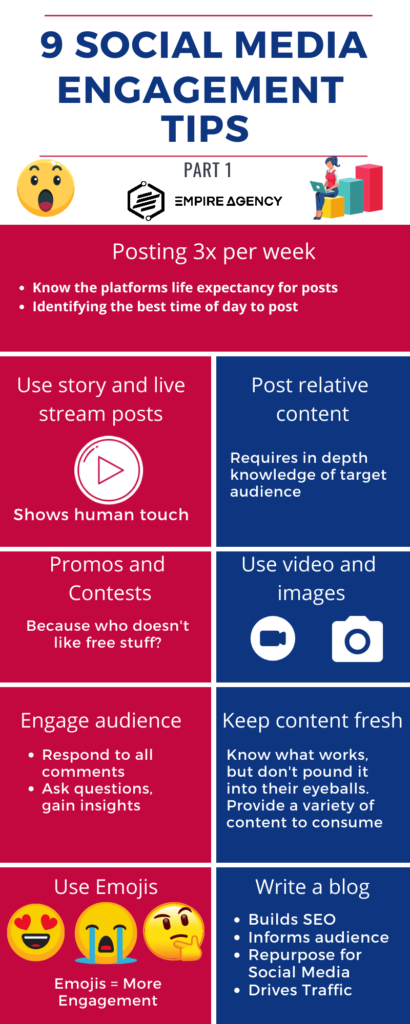 Let's Start Building Your Empire Today
Don't miss out on our weekly newsletter and monthly promos.