The digital age has brought unprecedented opportunities for businesses to reach new heights. However, navigating the complex world of local SEO for multiple locations can be daunting. For a complete guide on Local SEO best practices, make sure to visit our "Benefits of Local SEO" post for an incredibly detailed guide to local SEO success. In this comprehensive guide, we'll explore the must know topics and provide a valuable checklist to help businesses establish a robust local SEO strategy that effectively caters to all their locations.
Picture this: You own a thriving business with multiple locations, each offering unique products or services that cater to the local community. You understand the importance of digital marketing and want to ensure your online presence is optimized for each location. But where do you start?
Let's dive into the must know topics that will help you build a successful local SEO strategy for your multi-location business.
Unlocking the Potential of Website Optimization
The foundation of a strong multi-location SEO strategy is optimizing your website for multiple locations. This includes creating dedicated pages for each location, incorporating local keywords, meta tags, and structured data. By embedding Google Maps and optimizing URLs with location-specific keywords, you can improve the user experience and increase your online visibility. Neil Patel wrote a fantastic article for multiple location SEO that you can check out as well to learn more of the basics.
Mastering Google Business Profile Listings
Effectively managing and optimizing Google Business Profile listings for each location is essential for multi-location SEO success. By claiming and verifying all your locations on GMB, providing accurate and up-to-date information, and engaging with customers through reviews and GMB posts, you'll establish a solid online presence. Don't forget to add photos and videos to enhance your listing's appeal. In addition to your Google Business listing, you need to consider other directories and citations that will bring a big impact to your digital presence.
Effectively managing directory listings is a crucial aspect of local SEO for businesses with multiple locations. Directory listings not only increase your online visibility but also enhance your credibility among potential customers. By submitting your business information to various free directories, you can significantly improve your local search rankings.
Some of the most popular and helpful free directories for getting started include
Google Business Profile (includes Google Maps)
Facebook
Apple Maps
Yelp
Bing Business Profile
Hotfrog
MapQuest
ShowmeLocal
Navmii
TomTom
DexKnows, SuperPages.com, and Yellow Pages
EzLocal
NextDoor
It's important to understand the interconnected nature of these directories, as they often share information and influence various platforms. For example, Google Business Profile powers all local business results in Google Assistant voice search, while Apple Siri voice search relies on Apple Maps Connect for local search results. Amazon Alexa voice search retrieves local search results, photos, and reviews from Yelp, which also provides data for Apple Maps and Bing Places. Bing Places, in turn, powers local search results for Microsoft Cortana voice search and Yahoo. Furthermore, DexKnows, SuperPages, and Yellow Pages can be managed under the same profile.
By keeping your business information consistent, up-to-date, and accurate across these directories, you can optimize your local SEO for multiple locations and ensure your business is easily discoverable by users across various platforms.
Targeting Local Keywords Effectively
To target local keywords effectively, conduct keyword research using tools like Google Keyword Planner or SEMrush. Prioritize relevant keywords that best represent your products or services in each location, and optimize content and metadata accordingly. This will improve your search rankings and increase the chances of reaching your target audience.
Creating Unique Content for Each Location
To avoid duplicate content issues, focus on creating unique content for each location. This involves highlighting location-specific features, using local testimonials and case studies, and customizing product or service descriptions. By tailoring your content to the unique offerings or customer needs of each location, you'll create a more engaging user experience.
Managing Online Reviews and Reputation
Managing online reviews and reputation is crucial for businesses with multiple locations. Monitor reviews on platforms like Google, Yelp, and Facebook, respond promptly, encourage customers to leave reviews, and track performance. Regularly analyzing review trends will help you identify areas for improvement and maintain a positive online reputation.
Implementing Schema Markup for Multiple Locations
Implement schema markup for multiple locations using the "LocalBusiness" schema and adding location-specific data to each location page. Validating your markup with Google's Structured Data Testing Tool ensures it's implemented correctly and provides structured data about your business to search engines. Now I know that Chat GPT gets a lot of attention for the things that it doesn't do as effectively as we would like it to. However, things like creating schema markup could be an incredibly impactful way of using an AI tool like Chat GPT. For other helpful, yet non-SEO related, ways to use AI tools; go read our post about "6 Tips to Run Your Small Business Using Chat GPT".
Harnessing the Power of Link Building Strategies
Effective link building strategies include submitting your business to local directories and industry-specific listings, collaborating with local businesses or sponsoring community events, securing local press coverage, guest blogging, and promoting your content on social media platforms. These tactics will help you establish strong online visibility and credibility for your business.
Deciding on Social Media Account Management
The decision to have separate social media accounts for each location depends on factors like business size, resources, audience, consistent branding, local engagement, and manageability. Evaluate your specific situation to determine the best approach for your business.
Local SEO for Multiple Locations Checklist
As you embark on your local SEO journey for multiple locations, keep this checklist in mind to ensure a successful strategy:
Ensure consistency in NAP (Name, Address, Phone number) information
Manage and optimize individual location pages on your website
Maintain a clean URL structure for location pages
Conduct local keyword research and targeting for each location
Maintain separate Google Business Profile listings for each location
Develop location-specific content
Implement schema markup for each location
Invest in location-specific link building strategies
BONUS TIP
Keep your directory listings up to date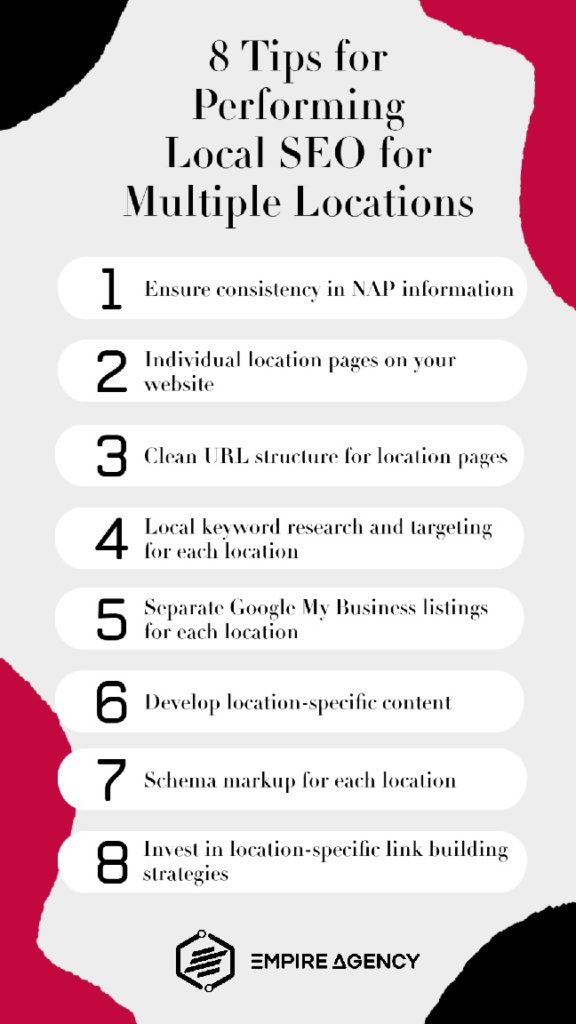 Optimizing your local SEO for multiple locations is a complex yet rewarding endeavor that can significantly boost your online visibility and credibility. By addressing the topics we have covered and following the provided checklist, you'll be well-equipped to navigate the challenges of multi-location SEO. However, if you'd rather focus on growing your business and leave the intricacies of local SEO to the experts, our experienced team at Empire Digital Marketing is here to help. With our proven strategies and in-depth understanding of local SEO, we can ensure your business thrives in the digital space, giving you the freedom to concentrate on what you do best – serving your customers and expanding your enterprise. Don't hesitate to reach out to us for support in achieving your local SEO goals.
Let's Start Building Your Empire Today
Don't miss out on our weekly newsletter and monthly promos.